YOGAFEST – The Largest Yoga Festival in The State of Florida!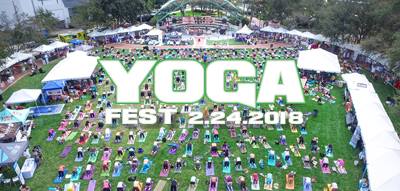 The MahaShakti Foundation (Be The Change Project) Presents our
6th Annual YogaFestFL, scheduled for February 24, 2018 in downtown Ft. Lauderdale,
Florida at Huizenga Plaza in Las Olas/Riverwalk.
Sponsorship Opportunities for YogaFest 2018
Questions? Call Kelly at 704-756-9245
or Pedro at 630-688-3610
or Debbie at 301-802-1786

WHO
The MahaShakti Foundation has been hosting the annual YogaFestFL event since 2011.
Our initial event, YogaBliss in Miami was held at the Miami Beach Botanical Garden in
April 2011 – Honoring Earth Day. We had over 500 participants (capacity at the
Garden) for a morning gathering and shared yoga with live music while participants
shopped and shared community. This was a free event for the community and our
amazing sponsors and vendors allowed us to grow to a much larger event in the fall of 2011.
YogaFest1111 was over 11.11.11 and 11.12.11 at International Polo Club Palm Beach in
Wellington, FL. Our musical guest was a worldwide famous yoga musician, Jai Uttal,
and we had numerous South Florida yoga teachers sharing community on the Polo
fields. We had over 1,000 participants and sponsors such as The Polo Club, Fiat, Pura
Vida Spa, I Love Yoga, and Om Shanti ensuring a successful event.
In 2013, YogaFestFL moved to the Huizenga Plaza in Downtown Ft. Lauderdale on Las
Olas/Riverwalk and on 4.20.13 had tremendous success with over 2,000 participants.
We shared yoga, music, food, shopping, and community from 9am to 10pm. Twelve
elite South Florida yoga teachers from Miami to Jupiter taught classes throughout the
day and we ended with concerts and dancing. This has continued to be the theme
each year and YogaFestFL has continued to grow. We enjoyed the park again on
4.19.14, 3.28.15, and 4.2.16 and each year our vendors were all pleased with the event
and our vendor space was 100% sold out.

In 2017, YogaFestFL moved to an earlier February date for better weather and on
2.25.17, we had more than 3,000 participants throughout the day. We invited even
more teachers and studio owners from the South Florida area and students enjoyed
classes ranging from meditation to Chakra Flows to Power Yoga to Acro/Partner yoga.
We ended with an amazing drum circle and fire dancing/hooping.
We are very excited for 2018's event scheduled for February 24, 2018 and hope to bring
more yoga to our local community. As we are on our 6th straight year in Ft. Lauderdale
in the beautiful Huizenga Plaza, we plan to continue to grow attendance with our
amazing teachers and vendors. We work to market though all our local studios from
Miami to Jupiter as well as on media platforms.
Thank you to our 2013-2017 Corporate Sponsors who helped make each event such a
success: Utimate Software, Whole Foods Market, Pura Vida Spa, Bitsy Bottom, I Love
Yoga, Krama Yoga Institute, The Yoga Joint, Gurus, Brenner Real Estate, Liquivita Louge,
Massage Envy, The New Vegan, The Raw Juice Company, The Frog Pad, Jay Block
Enterprises, Funky Yoga, Inversion Rac, Groovolution Entertainment and Ocean Yoga.

WHY
Proceeds from the event benefit the Be The Change Project (through The
MahaShakti Foundation, a local 501(c)(3)) which works to bring yoga, music,
meditation, and the arts to all. Specifically, the Be The Change Project
educates teens about Yoga, Wellness, and Healthy Living and empowers them
to be leaders within their peer group.

WHERE
Huizenga Plaza/One East Las Olas Blvd, Ft. Lauderdale FL (River Walk)

WHEN
SATURDAY FEBRUARY 24, 2018

HOW
We are seeking support from our lead sponsors as we move forward on all of our
marketing and promotional efforts related to YogaFest. If you cannot be
involved please feel free to make a direct contribution to the
Be The Change Project.

SPONSORSHIP OPPORTUNITIES
Corporate sponsorships start at $1,000. Our display sponsorships start at $5,000. Some of
our prior YogaFest sponsors were companies such as Whole Foods – who welcomed our
guests and provided food from 2014-2016, InversionRac also sponsored and
demonstrated by the front stage. Ocean Yoga demonstrated Yoga on Boards in 2014,
and Groovolution Entertainment provided excitement all day by the main stage in 2017.
The grounds host 20 + group classes throughout the event in 4 different zones and 2
large classes from the main stage. This year we have added an exciting opportunity for
sponsors, to wrap the fencing that surrounds the plaza with their logo! There are also
many opportunities for corporate branding, depending on the stage availability at the venue.
A YogaFestFL sponsorship is a great opportunity especially given that many types of
businesses are using Yoga in their corporate wellness plans and in their advertising
campaigns. Yoga is the trend of wellness and preventative care for the future.