300 Hour Yoga Teacher Training
Upcoming 300 Hour Advanced Trainings:
JOIN US IN FT. LAUDERDALE 2018
(Begin in February and Graduate in September!)
Join Co-Directors Kelly Brookbank and Lisa Pumper in this unique school that provides a
diverse group of specialists and leaders in South Florida to give you access to the
most well rounded program available in the community.

This 300 hour advanced program is a Classical Hatha/Vinyasa based school in the lineage of Krisnamacharya. We also incorporate various Tantric Lineages (Kripalu and Kundalini) to give an amazing experience of our master Hindu Lineage in the modern times of Eastern Yoga traditions.

We cannot wait to transform with you!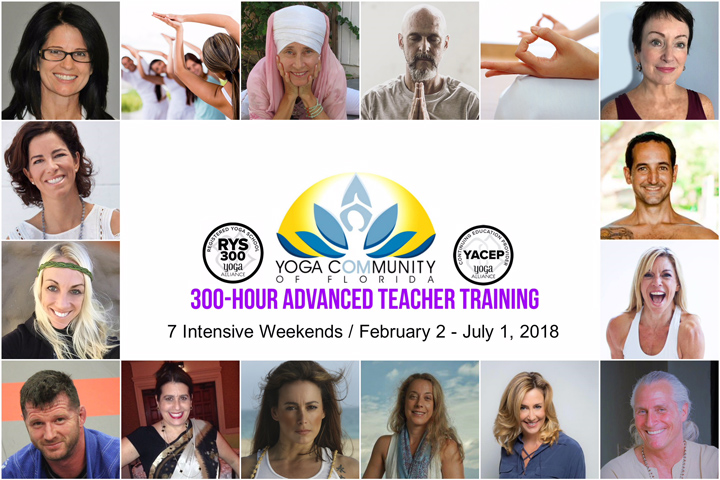 Join our Advanced Yoga Teacher Training and Earn your 300 hour Yoga Alliance Certificate

• Expand Your Teachings With Diverse Techniques 
• Enhance Your Knowledge Of All Aspects Of Yoga
• Transform & Experience Professional Growth with Personal Mentoring 

The Training is over 7 Intensive Weekends Feb-July 2018
Curriculum and Topics:
• Hatha Yoga Theory & Teaching Techniques:
Intermediate & Advanced Asanas, Pranayama Practices (Including Kriyas), Mudras, Bandhas & Meditation Techniques. Insights to popular lineages & styles: Ashtanga, Vinyasa, Iyengar, Kripalu, Kundalini, Trauma, Vini Yoga, Yin Yoga, Restorative, Prenatal and more.
• Anatomy & Physiology:
Functional anatomy beyond the 200 hour teacher, bio-mechanics and kinesiology for multi levels of asanas and practitioners, working with injuries and limitations and providing safety as the yoga teacher.
• Teaching Methods:
Mastery of sequencing, class planning & themes (Hatha and Vinyasa Styles) Assisting & adjusting asanas (both hands on and verbal techniques), Incorporating pranayama, meditation, and philosophy into classes Supported yoga (Use of chairs, walls, and props)
• The Business of Yoga (Ethics & Lifestyle):
Building a presence and enriching our community through service (SEVA), holding "space" for classes and workshops, discussions of modern issues in the business of yoga, ethics & boundaries, and understanding operations set up (website, social media, marketing, accounting, licensing, etc.)
• Philosophy:
Explore the teachings of our Ancient Texts & Lineage, Vedas, Upanishads, Yoga Sutras, Bhagavad Gita, Hatha Yoga Pradipika, Tantric Philosophy, Stories of Hindu Deities and more…
         Prana & Subtle Energies: Koshas, Chakras, Nadis, Aura, etc. including modern interpretations on how               to incorporate into teachings.
         Sanskrit: Techniques in verbalizing this oral tradition, posture names, mantras/ chanting & kirtan.
         Ayurveda (Sister Science of Yoga): Balancing through Doshas and treatment including all new age health             and healing practices under this tradition.
2018 DATES:
7 Intensive Weekends- Training Locations: Red Pearl & Urban Namaste in Ft. Lauderdale
Field trips to Tropical Vinyasa (Miami), iYogaDelray (Delray) & Ashtanga Worldwide (Ft. L)
February: 2-4 February: 23-25 March: 16-18 April: 6-8 May: 6-8 June: 1-3 June 29,30 July 1
TIMES: Friday 5pm-10m, Saturday & Sunday 8am – 8pm*
*a few classes begin at 11am
ADDITIONAL OPPORTUNITIES & ELECTIVES:
• Weekly 1 hr Online Conference and Monthly 2 hr Private Mentoring Sessions
• Attending a Sunday AM Yoga with Live Music at The Colony Hotel (Colony Yoga)
• Opportunity to Teach Yoga Classes and Create & Lead a Yoga Workshop
• SEVA at YogaFestFL on 2/24 (required 8-20 non contact hrs)
• SEVA at Kashi Ashram on 5/13 with Stamp out Hunger (optional 10 non-contact hrs)
• SEVA at Costa Rica Retreats 7/23-27 (Teen Leadership & Community Service)
or 7/28 – 8/4 (Adult Immersion into Yoga and Meditation 30 non-contact hrs)*
• Thai Yoga Training w/ Mukti Michael Buck on 6/23-24 (optional 16 non-contact hrs)*
• The Yoga Expo: Continue Ed Courses on 4/14 (optional 10 non-contact hrs)
* *additional charge for event.
PRICING:
$3,995 paid in full before Jan 2
$686  pay as you go* (pay 2 weeks b4 scheduled intensive)
 For more info & registration contact Lisa Pumper at: LisaPumper@yahoo.com / (954) 609-9074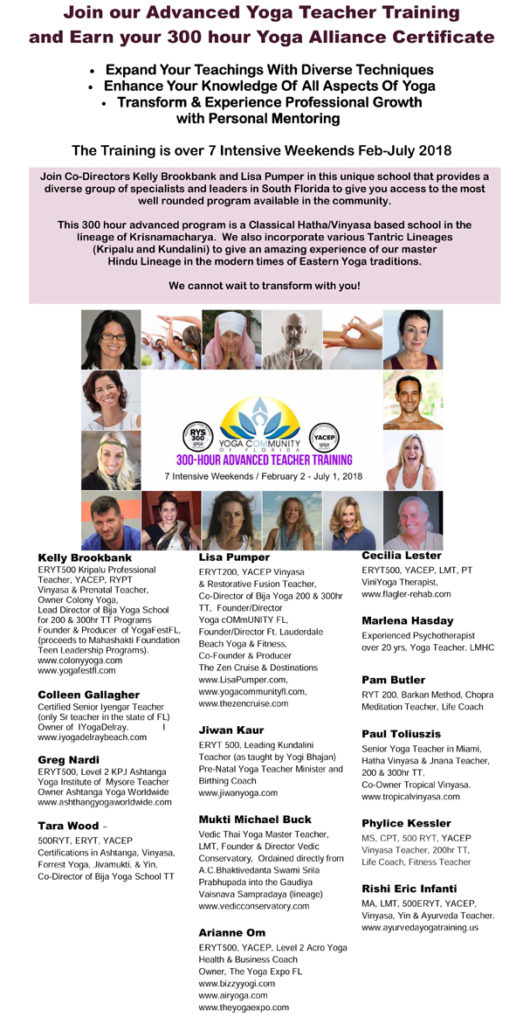 Coming Soon!
Bija Yoga School has trained yoga teachers for the last ten+ years. Upon completion of the training, a participant can complete their Yoga Alliance Certification. Directors are Kelly Brookbank, EYT500 and Tara Wood ERYT – both instructors with over 20 years of teaching experience. 
Kelly Brookbank brings training from the Kripalu school of yoga which includes Asana, Pranayama, and Meditation and Tara Wood brings her background of Ashtanga/Vinyasa as well as Yin and many other schools. Tara also is the Anatomy teacher for the school This combination of the physical along with the meditative practices of yoga allows the Bija Yoga school to offer a comprehensive yoga experience for all of its participants.

Testimonials:
The Bija Yoga School 500 hour TT took my teaching to a whole new level, imparting knowledge with deep context, helping me further understand the ancient practice of yoga and it's applications in the modern world. I loved the variety of voices and perspectives from the amazing, highly experienced teachers that taught the different modules. I looked forward to each training weekend as a time to learn, to grow, and to connect, and I made lifelong friends in the process. Thank you Kelly, Christopher, Marlyssa, and Tara!  Nikki Dean, RYT500